About
No-IP delivers efficient, secure, quality domain and DNS solutions for clients of all sizes worldwide. Right now, over 30 million people use No-IP to access their computers remotely, run a home server, monitor an IP camera, and manage their websites DNS among many other things.
No-IP stands out for having an exciting value as they are the precursors of the dynamic DNS. This concept has been fundamental for the development of the Internet as we know it today. No-IP has over 100 points of presence to run their DNS across the globe.
Challenge
Modernizing their infrastructure and deploying their DNS service with a provider who had experience and knew the Latin American market.
Solution
EdgeUno designed a solution to serve No-IP's technical and infrastructure needs through a custom cloud model and its own data center.
Results
No-IP got a responsive system, flexible solution, and optimized response times and costs with EdgeUno solutions across LATAM.
A hardware upgrade and flexibility for operations management
Technology evolves fast and No-IP knew it was time to move their server infrastructure to a new data center of their own, with state-of-the-art machines, virtualization clusters, and a robust connectivity network.
To continue growing its presence in the world and specifically Latin America, No-IP needed a new point of presence that would support all their services and the millions of active users within a modern structure of their own. It was vital for No-IP to have total control and flexibility, with customized features for the company needs.
The ideal data center colocation service for No-IP had to be agile, with a quick response granting the freedom to manage everything autonomically, empowering them to perform different tests and optimizations in a short time and without the need for intermediaries.
Autonomy and independence in their operations
Making a change as significant as that of the data center structure supporting a large part of their service offering is not an easy task. Hence, No-IP's technology department knew they needed an experienced partner to deliver a solution they could rely on for the installation and configuration of the network equipment needed to expand their operation.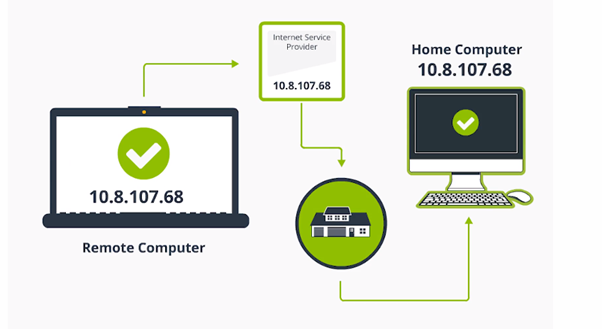 A modern infrastructure as the solution
The high level of flexibility and customization that EdgeUno offered drove No-IP to choose EdgeUno's Cloud by Design as a solution for the challenges they were facing when storing their servers and deploying their DNS in Latin America.
EdgeUno created a scalable network topology solution. A turnkey feature project helped the installation of a data center in Los Angeles, California, with 12 physical servers and a virtualization cluster. Providing No-IP with approximately 80 terabytes of storage, a monitoring tool, login tools and alerts system, allowing the company to deploy its infrastructure with all the virtual servers necessary for their operation.
The physical construction of the Data Center in Los Angeles took around 2 months to be up and running, but once that was completed, it took approximately 20 hours for the initial implementation. The entire orientation process was carried out as the infrastructure stared hosting No-IP's solutions, and even though the virtual infrastructure that was built for the DNS provider is very complex, it started working on itself once the installation and training phase was over.
Covering No-IP's back with a strong security system
To maintain the security of the infrastructure, EdgeUno connected a high availability storage system and routers of network equipment to redundant internet connections to offer the best bandwidth.
Experience in Latin America
Brazil is No-IP's third-largest market globally, which required translating all processes into Portuguese and understanding the country's specific infrastructure and connection situation. "Another big reason why we like EdgeUno is that we work together to adapt and improve the service in Latin America; they have good resources in this area", David Jonas said.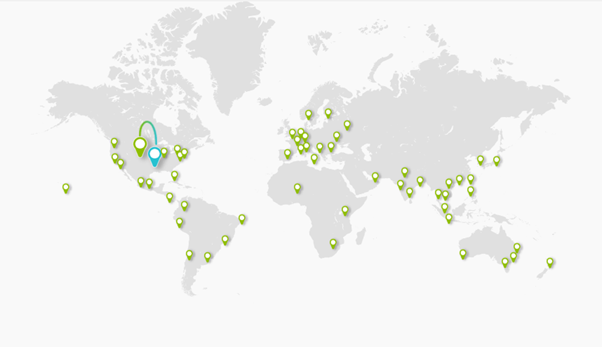 No-IP Global Anycast Map
Business results and benefits
Complex systems are a thing of the past for No-IP. Today they have the freedom and flexibility to manage their systems with the peace of mind that EdgeUno's expertise covers the most complicated details.
With the flexible and responsive system, it is possible to make changes quickly, and this is the biggest indicator of success. It was just what we needed.

David Jonas
Easy setup and direct communication
One of the EdgeUno service characteristics is the speed of response, which allowed No-IP to learn the platform more quickly and act with more agility.
With a simple setup and a solid infrastructure, No-IP gets a modern system and a direct communication channel with the experts at EdgeUno. "Everyone is friendly, willing to listen, good at explaining and giving feedback" Jonas explained.
Time optimization
EdgeUno contributed to creating efficient and responsive processes for No-IP, thus decreasing the time spent on various tasks thanks to the flexibility and responsiveness of its systems. "In the past, we could spend up to half a day to activate a new server; now, with the service implemented by EdgeUno, this process takes 2 to 3 minutes."
Open Source
The characteristic of an open-source platform in operations also helped to have more agile and flexible processes. EdgeUno uses the open-source platform Proxmox, making it possible to carry out tests and create solutions to different problems without creating additional and time-consuming copies to carry out tests.
Cost optimization
"We found the EdgeUno proposal quite affordable in terms of price for connectivity." Jonas continued. The No-IP team acquired its entire connectivity and transit network through EdgeUno's infrastructure.
Key takeaways
EdgeUno's solution positively impacted No-IP's operation in different aspects to continue growing and strengthening its presence in Latin America and the world.
Having a partner with experience and expertise in Internet operation offers an infrastructure designed based on No-IP's specific needs. Working together with flexible and scalable connectivity and transit networks has been essential to optimize time and streamline processes, make the necessary tests simply, and make changes quickly.
Dan Durrer
"Creating a company from an idea is not easy, and I could never have anticipated what No-IP would turn into. This company is what it is today because of the hard work and passion of every person who works here. I have been incredibly lucky to employ people who love what they do and believe in No-IP. I am proud of what No-IP has become and can't wait to see where we go in the future."
Contact
Dan Durrer – Founder & CEO
No-IP.com
425 Maestro Dr. Second Floor Reno, NV 89511 USA
+1 775-853-1883